Since January 2005, A Better Life – Pet Rescue has placed over 800 animals in loving, permanent homes!
Less than 20% of people who adopt animals get them from shelters or rescues. Be a part of the solution, not the problem.
---
Meet Sparky!
Hello!!! I'm 2-year-old Sparky. I am peppy and love to play, learn new tricks, and be with other dogs. I was found laying in the middle of a street, hot, hungry and thirsty. Now I'm happy and hopeful.
Here is some more info about him from his foster.
With those ears we believe he is a Shepherd Mix.
He is 2 years old.
He is 50 pounds now.
He is around two years old.
He is super sweet and so much fun!
He is good with the cats at his new fosters home.
He loves playing with tennis balls!
He loves his walks and being outside.
He loves to play with his Wobble Kong and he loves it. So funny to watch him with it!
He seems to be good with big dogs but not sure with little dogs. Our rescue does home visits so we can take our time to introduce him to your entire family in a relaxed environment.
Loves giving kisses and attention.
A fenced-in yard would be nice so he can run.
He is crate trained.
He is house trained.
He loves to play fetch!
Sparky is microchipped, neutered, negative for heart worms and parasites, and fully vaccinated. Adoption fee is $100. Please fill out an application so you can meet this great dog!
---
Meet Finley!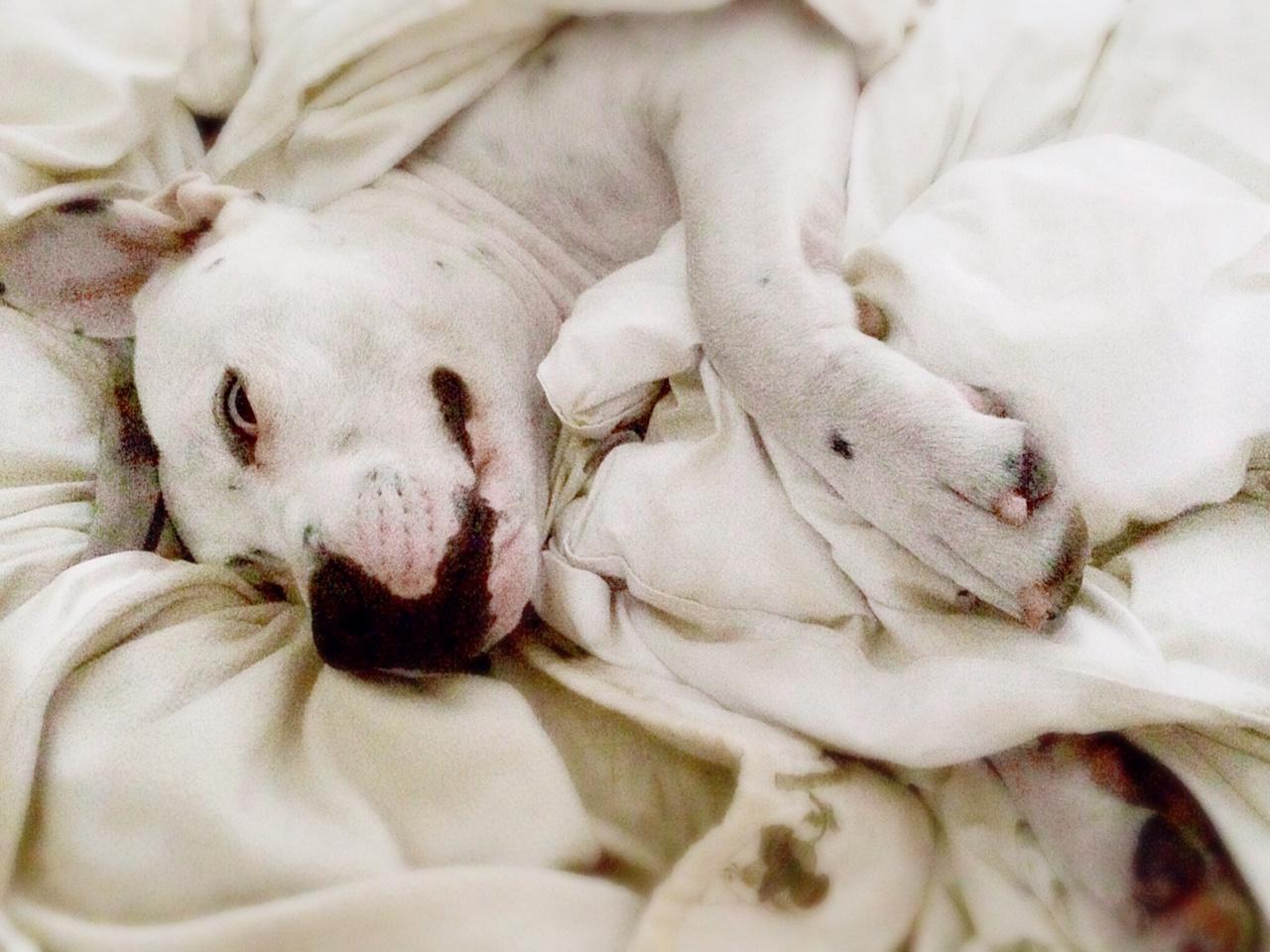 Hi, my name is Finley. I am a handsome, well-mannered boy who is full of happy energy. I may look like a tough guy, but behind this adorable baby face is a champion SNUGGLER in search of my forever family! I love going on long walks, playing with my stuffed animals and chew bones, and most of all – SNUGGLES! I prefer not to be left alone outside or for long periods of time because I get lonely. I am more of an inside dog who wants to be part of the family. I am a bit selective about having fur friends, but if I have to share my family, a smaller fur friend would be the better choice for me (look at me hanging out with little Jack Russell. I am very well-behaved. I listen to simple commands. I will be your best friend and your constant companion. I will even let you sleep-in in the morning.
67 pounds | Approx 2 years old | Walks great on a leash but gets excited when he sees another dog | Commands: sit, stay, come, down, leave it | Is not crate trained due to being very stressed when in a cage | Finley is house trained
He has possible separation anxiety at first, so toys and chew bones worked wonders for Finley. Finley is great with my small dogs but requires a slower introduction with large dogs. I believe if introduced the right way he would be great with a dog that is mellow like himself. (He was found with another 50 lb dog.) Finley needs someone to continue in his training process. He is super smart! He is such a good boy and just wants to be loved. A fenced in yard is ideal!
His only downfalls are: large dogs (some) and his separation anxiety until he gets used to being in his new home. Leaving out toys, bones and some clothing around the house so he can carry them around. Walks and a game of fetch should do the trick!
Finley is neutered, house trained, microchipped, up to date on shots and currently on flea and heart worm preventative. Adoption fee is $100. Please fill out an application so you can meet this great dog!